Why install a stove
Stoves can save on heating costs as wood is often cheaper than traditional plants.
The stoves have evolved over time, becoming very efficient and technological.
They can be programmed, they work automatically, thanks to the ducts they can also heat adjacent rooms or work from boilers for home and water heating.
Classic: the wood stove
Wood stoves use a "renewable" fuel that respects the balance of the natural environment and produces waste as carbon dioxide and ashes that can be used as fertilizer.
Wood stoves are very simple, so maintenance is minimal. They are sufficient to heat rooms up to 100 square meters.
For installation, connect it to the flue and check the draft. It is advisable to provide an air intake in the room where the stove is installed. Do not insert in rooms where there are natural draft boilers or extractor hoods.
There are various types, with chafing dish, covered in majolica in any case consist of a hearth (where combustion takes place) and a more or less valuable coating.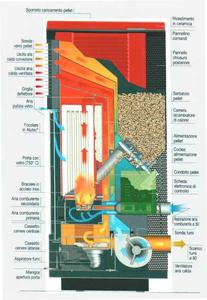 Pellet stove
These stoves burn waste from wood processing.
This saves fuel storage space in the form of grit.
The regularity of the fuel shape allows an automated operation of the stove that is self-powered by a programmable electronic system with the operating hours.
The gentler mechanism when compared to a wood-burning stove requires more maintenance and constant cleaning.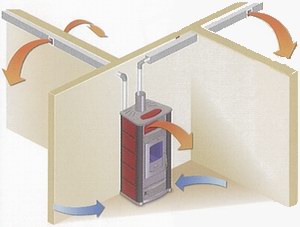 Insert and ducted stove
This type of stove improves output by up to 70% by forcing air to circulate around the fireplace.
Thanks to this solution it is also possible to channel the flow of hot air to the adjacent rooms.