In case of accidental punctures of the pipes or localized leaks it is possible to intervene in three different ways, but after having closed the general faucet of the system to interrupt the leak:
With the adhesive tape for leaks, wrap the pipe in the section that presents the leak by bleeding 2/3 cm per side. Apply a couple of wraps crossing in opposite directions

With the stucco, mix the two parts of the special putty until it becomes homogeneous, cover the tube and let it dry for at least 24 hours

With the sleeve, where possible, ie on straight pipe sections, apply the sleeve and close it, the rubber will seal the leak.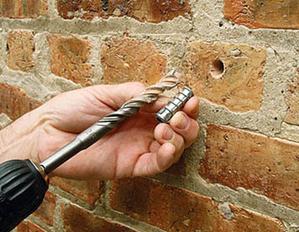 Carefully drill
When drilling a wall to insert a plug, do it with caution, press gently and make sure there are no pipes or electrical systems.
There are special devices on the market that indicate the presence of metal pipes and electrical cables.