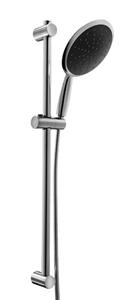 To install the shower head height adjustment rod it is not necessary to set up the hydraulic system.
Even if you already have a wall-mounted shower head it will be possible to dismantle it and attach a flexible extension from that exit.
First of all, position the rod for fixing to the wall keeping in mind the height of the tallest user of the house.

If the shower head can reach a height of 2.1 meters from the shower floor it will be good for everyone.

Now mark the position of the rod fixing holes on the tiles.

Pierce the tiles without pressing too hard using a wall tip (on the tip head there is a hard metal plate)

Remove the shower head on the wall or prepare the shower head connection.

Fasten the rods by screwing the rod and connect the extension of the hand shower and you're done.

li>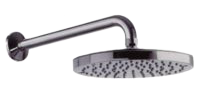 Clean the limestone shower head
The best shower head models on the market have the part that makes the rubber nozzles so that when you rub them with your fingers, the limestone comes off.
If this is not enough you can use a pin to free the individual holes or immerse in a solution of water and vinegar until the limestone is completely detached.