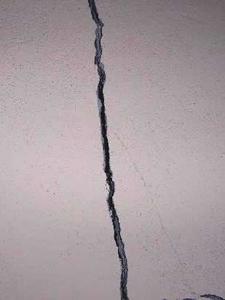 First, you will need to remove the pieces of plaster that are detached around the crack. Then remove the dust with a wet brush making sure that the wall is slightly dampened, this will facilitate the adhesion of the grout.
Subsequently with the putty and a spatula it will pass to fill the crack alternating the direction of laying the stucco.
Let the grout dry for 2 or 3 hours and sand without pressing too much until the grouting is leveled at the wall level. To do this, use a tampon made of a wooden block wrapped around with thin sandpaper.
If the crack keeps coming back
If the cracks continue to return check the structural stability of the house.
If the cracks are very evident and despite the grouting they continue to recur, can be the sign of a collapse of part of the foundations that can often be remedied.