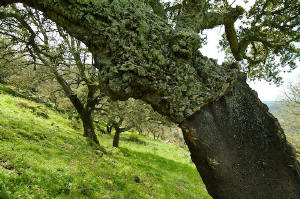 The plant
Harvesting begins when the plant is mature and is repeated every 10 years.
Thermo insulating
Cork is used by industry for its thermal insulation properties. It also has sound-absorbing properties.
Cork products
With the cork, numerous products are created, including stoppers, but also tiles and rolls for the covering of floors and walls.
The cork oak
It is a medium-sized, evergreen plant that finds its ideal climate in the Mediterranean basin.
Presents a very corrugated bark with which cork products are created. For the collection of cork the plant is peeled so the plant reforms its bark again until the next harvest.