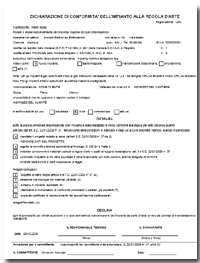 The italian law (decreto ministeriale n.37 del 22 gennaio 2008) stipulates that:
Work on plants can only be carried out by authorized companies.

Business Skills Have a Responsible to Sign Declarations of Plant Compliance.

All installations except lifting equipment must be designed.

Systems with certain complications must be designed by a qualified technician.

There is no need for the project for ordinary and extraordinary maintenance works.

Failure or incomplete issuing of the Declaration of Conformity can be sanctioned.
By clicking on the following link you can see the full rules in the reference: DM n.37 del 22 gennaio 2008